The final of this season's loan reviews and this time the focus is on Karim Rekik. A classy, composed centre-back with a strong frame and a decent turn of pace, he's already a full Dutch international after becoming something of a veteran of the loan system. Since making his debut as a precociously talented seventeen year old back in 2011 he's tasted life at numerous clubs - mixed spells at Blackburn and Portsmouth in the Championship were succeeded by an ultimately more satisfying move to PSV during the 13/14 season. He quickly established himself in Eindhoven alongside former Chelsea youth product Jeffrey Bruma at centre-back, and it proved a productive partnership, too. He was invited back to the Phillips Stadion for a second spell this year and he wasted no time picking up where he left off, capping off a good season with an Eredivise winners medal, bagging himself some
YouTube notoriety in process
...
The immediately obvious one - how has Rekik done this season? Has the loan been a success?
Martijn
- Well, it's known that PSV was crowned champions this season, mostly due to the attacking force (scoring 92 goals), but the 'Eindhovenaren' also improved defensively, because PSV conceded just 31 goals this season, 14 less than the season before that. So, it's a combination of certain things, but it's clear that Rekik – and his fellow defensive colleagues – did a superb job this season.
Will
- Indeed it has - for both PSV and the player. Over the last two years, Rekik has been vital part of Philip Cocu's eleven. While still only 20 years old, his leadership and maturity at the back has been impressive.
At such a young age, you would expect a defender, in such a fast paced league as the Eredivisie, to boot the ball as fast and far as he can when under pressure. Rekik is the complete opposite, he holds great composure and with a fantastic 89% success rate in passing (according to Opta) it shows that he is a safe hand at the back. PSV have just clinched their 22nd Eredivisie title with Rekik playing in 29 of the 34 games in the season - so the defender has earned his winners medal.
Has he improved as a player in his second spell at the club? How does he compare to any other stand out players in the Eredivisie?
Martijn
- Rekik developed significantly over the past season, which isn't that rare, because of his age. But it's safe to say that he 'grown up' over the past season. Concentrating for the full ninety minutes, no stupid yellow cards and finally being conscious about his strengths and flaws.
Will
- His central partnership with Jeffrey Bruma (a former Chelsea youth) has gone from strength to strength and along with full-back Santaigo Arias and Jetro Willems, they are part of arguably the best defence in the Eredivisie after just conceding 31 goals in 35 games in a championship winning season. Over the past campaign, Rekik has seen his personal development increase. Standing at 6ft 1 inches tall, the strength and power he possesses makes aerial duels an ease to win and his reading of the game has come on. He is second in the league in blocks, averaging one block per game showing that his defensive awareness is one of the best in the division.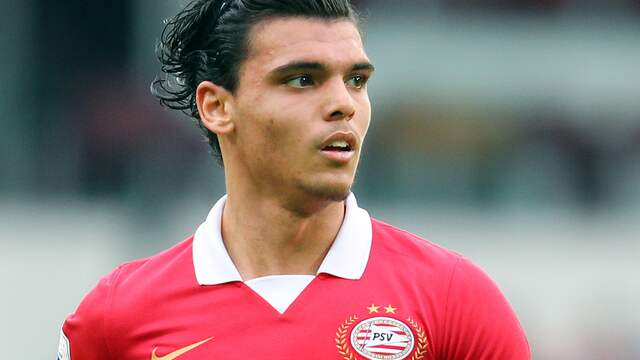 What's the perception of his potential as a player within Holland/PSV? Do they think he'll have a chance at City?
Will
- He is seen as a player that can eventually lead the back for the Holland national side. The perception is that he would not improve to be this player at Manchester City. With Vincent Kompany, Martin Demichelis and Eliaquim Mangala ahead of the young Dutchman then it is not hard to see why Rekik's progression may halt at City.
Martijn
- The Netherlands have had problems with their defence for several years now. Louis van Gaal captured this magnificently in 2014 and therefore chose for a 5-men strong defence. The expectations of him succeeding at City is marginal, mostly due to the competition and knowing that such a rich club as Manchester City won't have the patience for younger players to gain experience. Third reason is that wisdom comes with age and mistakes will be made along the way, which isn't acceptable at such a big international club.
His obvious flaws/strengths? Does he remind you of anyone stylistically?
Will
- One thing I pick up on when I watch him, can be his decision making. One thing springs out is that he sometimes has an inclination to pass back to the goalkeeper and although, he is retaining possession for his team, this can expose the keeper especially if he were to play in a stronger league.
There's a sense from some City fans that perhaps PSV aren't always tested enough physically for Rekik to develop the necessary traits to be a premier league defender. Would you say that's fair?
Martijn
- You will always have such opinions, don't get me wrong, I agree with those who say the Eredivisie isn't physically challenging comparing to the Premier League. But, which competition is? I personally watch several (European) competitions and not one of them comes close to the importance of physical superiority as needed in the PL. But, I wouldn't be worried about Rekik's physicality, because he has grown into a strong – and relatively - fast central defender.
Will
- Of course, the Premier League is a much stronger league although possibly not as strong as lot think, as the European competitions have proved over the past few seasons. However, my prediction would be if Rekik went on loan and got real game time at say Aston Villa, Everton or a team like that - he would possibly in better shape to challenge Kompany, Demichelis and co the season(s) after.
Do you personally think he has a chance at City? Would you use him if you were Pellegrini next season - I.e do city need a player like him? Or another loan move?
Will
- Like mentioned above, another loan move would help his game in my opinion and help Rekik adjust to a total different style of football. In Holland, all twenty teams primarily play the ball on the floor, in the Premier League possibly only about ten teams can be known for this, so a loan move over here would give Rekik vital experience dealing with the long ball game and defending set-pieces. With his height, he should not take much adapting.
Martijn
- He won't be a first squad member next season, that's for sure. It would be perfect for him to gain experience in a more challenging environment, maybe the Bundesliga or a Premier League-club such as Sunderland, West Bromwich Albion, West Ham United etc..
Do you think city will utilise the loan link up with PSV again? Or do you know of any players from city's academy you'd like for a year?
Martijn
- We've had several City-players on loan in the last couple of seasons in the Eredivisie. What to think about John Guidetti or this year with Albert Rusnák, Divine Naah and Sinan Bytyqi. Unfortunately, latter picked up a serious injury almost immediately, but both Naah and Rusnak contributed greatly to our competition. Rusnák had an expiring contract with City and was bought by FC Groningen in January, after being the best Cambuur-player in the first half of the season where he played on loan. So yeah, both City as well of several Dutch clubs are happy with the current circumstances.
Will
- The impression that Cocu and Marcel Brands (sporting director at PSV) has gave post-season is that they wish to purchase Rekik outright from Manchester City. With the money they have received from the Memphis Depay to Manchester United deal - this may happen. Although City will see Rekik as a home-grown player for their squad and may be reluctant to let him go permanently.
Where can you imagine him being in four or five years time?
Martijn
- It's really hard to say. For Rekik it's evident that he will gain a lot of experience as a first squad member. So, he should be really picky when it comes to choosing his next (loan) move. It all depends on a good, steady career and then he will most likely be a good Premier League-defender, maybe not the level required at the top clubs, but time will tell.
Will
- A mainstay in the back four (or three) of the Dutch national side and playing for a top four side in one of the big leagues across Europe
It's an interesting one with Rekik. I never fully know what to make of him - I've seen the odd game here and there and for some reason, despite all of his obvious potential, I've personally never been wholly convinced. He's physically strong, he doesn't seem quite as fast as he did when he was seventeen, but he's still no slouch, and he clearly is technically solid and very composed, yet I wonder if he's quite cut out for the level that City want to attain. He often seems perhaps a little passive and not the tough, bullish warrior that maybe he would need to be to compensate for not being the purest of athletes. Would he really be an improvement on Nastasic? The Serbian was deemed surplus to requirements at City and his game is similar in many ways. Perhaps there's the scenario that in Holland, as Martijn and Will alluded to, he's not quite tested enough with the real nitty gritty defending that many are often found out by over here. Would he even get ahead of Denayer now? Denayer undoubtedly benefited by experiencing this for Celtic - even though the SPL is technically inferior, it's definitely a considerably more physical testing ground for a young defender. You grow up there and you do it quick, or you're eaten by 6'3 Duncan Ferguson type, or nipped at by an equally irritating Paul Dickov clone. It's tough, basically.
That just isn't the Eredivise at all - that's not to say it doesn't have its values, it does clearly, but it's worth considering that the game is mostly played on the ground in front of him and it could be a pretty rude awakening if he had to experience a trip to the Britannia. There isn't many things in football quite like a long diagonal launched towards the back post and Peter Crouch... he could learn to cope with this howeverm and as it currently stands it's impossible to say. It really could go either way - he's an intelligent footballer and he's grown at PSV, undoubtedly. He's done what could only be reasonably be expected of him, but it's definitely now the time for City to make a decisive decision regarding his future. I would expect they will keep him with the first team during the pre-season tour to take a closer look at his development but he'd have to show a lot to be afforded a concerted opporunity next year and that may just be out of his reach. He's grown accustomed to first team football, despite his relative youth, and it's unlikely that he would accept being a reserve at City for long, scrapping for the odd opportunity here and there in the Carling Cup, and I get that. Yet we need to give him games in that kind of environment to see if he could be a viable option for us while learning that necessary side of his game. Catch 22.
There's rumours he may sign permanently for PSV, and if he is to end up there next year it shouldn't be via a loan. A third temporary spell back there achieve would achieve little, we'd be in the same situation as we currently are but just a year down the line with little more learned. If he doesn't leave City, then logically all signs point towards seeing how he fairs out on loan in a league with a more intense approach - somewhere there's a little more fire and fight. It'd be more beneficial than going back on loan to PSV, or even being sat on City's bench. Hypothetically, if he came back twelve months from now having dealt with a newer, more demanding environment then great - we have a player. If he falls a little short then so be it, the Premier League's a tough place and many with bigger names and bigger reputations than his have struggled over on these shores. Either way, Rekik's a good footballer and he'll most likely spend most of his career around the upper echelons of the footballing tiers. Time will tell whether that's with Manchester City or elsewhere.
Previous Loan Reviews -

Marcos Lopes

||

Seko Fofana

||

Jordy Hiwula

|| Guidetti & Denayer